Brad L Penenberg, M.D.
Center for Minimally Invasive Hip and Knee Surgery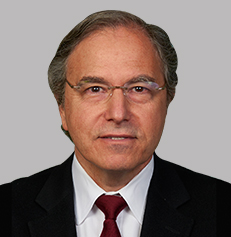 Brad L Penenberg, M.D.
Dr. Penenberg specializes in primary and revision hip and knee surgery. He maintains a high volume first time, or primary joint replacement practice utilizing the most reliable operative techniques (including robotics and computer guidance) and implants. In addition, because of his specialty training in the Harvard Orthopedic program at Massachusetts General Hospital he also has unique expertise in "revision surgery". This involves treatment of patients with problems related to their hip or knee operations such as infection, loosening, wear, limb length issues, reaction to metals, unexplained pain, or device failure for any reason. For many years he has received a steady stream of referrals for revision surgery from the LA area and beyond. Minimally invasive surgical techniques are used in all primary and many revision surgeries. These innovative techniques, developed by Dr Penenberg, involve less trauma to muscles and soft tissues and typically result in significantly reduced blood loss, less postoperative pain, and earlier, easier mobilization and recovery.
Dr. Penenberg is a graduate of the George Washington University School of Medicine, where he was the recipient of the Julius S. Neviaser Award in Orthopaedic Surgery. He did his general surgical training at Albert Einstein Hospital in New York, and completed his residency at Tufts – New England Medical Center and Massachusetts General Hospital in Boston. After his residency, Dr. Penenberg remained in Boston for two years to complete specialty training as a fellow in reconstructive surgery of the hip and knee at Massachusetts General Hospital. During the fellowship, he performed as a research fellow and a clinical instructor of orthopaedic surgery at the Harvard University School of Medicine. He is an active member of the American Academy of Orthopaedic Surgeons, a member of the American Board of Orthopedic Surgery, and a Qualified Medical Examiner. Dr. Penenberg has demonstrated a commitment to new physicians choosing orthopaedics as a specialty. He was an Instructor in Orthopedics at Harvard Medical School, and Assistant Professor in Orthopedics at the University of Southern California School of Medicine and is now involved in training orthopedic residents and fellows at Cedars Sinai.
He is currently Chief of the Arthroplasty Service at Cedars-Sinai Medical Center in Los Angeles and is also the Director of the Hip and Knee Fellowship training program at Cedars.
Current areas of research interest include the study of the anatomy of minimally invasive techniques and accelerated recovery in total hip arthroplasty, the relative advantages and disadvantages of anterior hip vs portal assisted superior and posterior total hip arthroplasty, analysis of complex hip and knee reconstruction, management of the infected prosthesis, coordination of computer-assisted hip and knee surgery and the application of robotics, design analysis of hip and knee prostheses, and development and application of patented hip and knee implants and instruments designed to improve precision bone preparation and component implantation. Dr. Penenberg is also involved in creating improvements in workflow for his patented Surgeon's Checklist software as well as the development of new software applications incorporating artificial intelligence and robotics in total hip and total and partial knee surgery.
Dr. Penenberg is often called upon to share his expertise in his field at symposia around the world. He has presented at symposia for the International Society for Technology in Arthroplasty, Australian Orthopedic Association, and the Japanese Orthopedic Association. He is also a frequent presenter at the American Academy of Orthopaedic Surgeons annual meeting. Dr. Penenberg has co-authored a surgical textbook on revision total hip surgery and contributed chapters to a textbook entitled "HIP."
Mission Statement
After many years in training with the early developers of hip and knee replacement surgery, I have spent more than 25 years in an orthopedic practice dedicated to the treatment of disorders of the hip and knee. I have spent over 30 years studying, and working on, the critical elements of implant design and surgical approaches with a commitment to minimizing post op pain, accelerated recovery, and optimization of patient and implant function.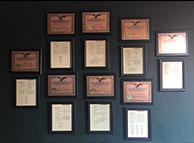 Dr. Penenberg holds 23 patents introducing new technology for improving hip and knee surgery. He has 4 new patents pending.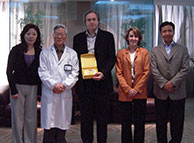 Dr. Penenberg receiving a gift during his visit to China's Peoples Hospital #6. He instructed Chinese surgeons in minimally invasive THA.