Knee
Total Knee Replacement/ Resurfacing
Total knee replacement is an established procedure performed for severe damage of the knee joint causing pain or lack of activity. Total knee replacement is often referred to as total knee arthroplasty, and involves resurfacing and replacing damaged parts of the knee. Typically, 10mm or one quarter of an inch of bone is shaved from the joint.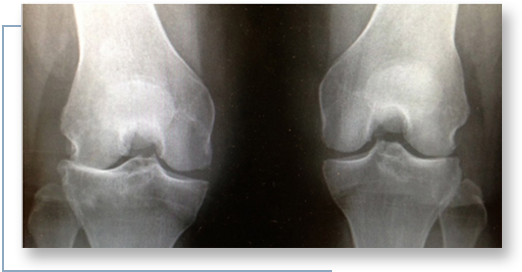 How do you know if your knee pain is Osteoarthris and a knee replacement is needed?
Knee Osteoarthritis is usually diagnosed by X-ray showing joint space narrowing with or without bone erosion.
Symptoms of Knee Osteoarthritis
Knee pain caused by osteoarthritis could be located anywhere around the knee
Diffuse swelling around the knee, which can be intermittent
Stiffness or limitation in flexion or end-range extension
Later stages deformity of joint (knock knee or bowing)
Minimally invasive total knee surgery (MIS) is a giant step forward in performing knee replacement through a smaller incision. MIS quad-sparing total knee replacement entirely spares the quadriceps muscle and tendons, which control the bending of the knee. Dr. Penenberg has performed over 3000 quad-sparing MIS knee replacements.
Traditional Knee Replacement
Incision through quad muscle tendon. which causes much of the pain in recovery
Incision is 8-10" long
Penenberg's Quad-sparing MIS Knee Replacement
Incision is usually 4-5" long.
Spares quadriceps muscle and tendon.
Only some of soft tissue attachments adjacent to muscle are cut.
Intact muscle and tendon are drawn to the side of the joint.
Scaled down specially designed instrumentation is utilized.
BENEFITS OF QUAD-SPARING TECHNIQUE
Most patients leave the hospital after one night.
Less pain in recovery due to sparing quadriceps
Earlier ROM
Potential for Bilateral or partial knee replacement outpatient surgery, so able to leave in 6 to 12 hours.
Faster recovery, up and walking 3 to 6 hours after surgery Computer guided surgery, use of pre-op imaging and custom design cutting or bone preparation can also be used in complex cases or to help correct severe deformity. It helps to acheive:
Precision placement of prosthesis
Restoration of normal limb alignment
I competed at the highest levels of woman's volleyball throughout my life, and my life revolves around being active, so when my knee finally wore out, I relied upon Brad Penenberg to get me back to the level I am Use too!
Gabrielle Reece, Gabrielle Reece Health and Fitness Expert
Revision Total Knee Replacement
Patients undergoing a total knee replacement will most likely never need revision/repair surgery. If there is unusual wear and tear on the prosthesis, or an incident occurs that damages the bone(s) or the prosthesis, a surgical repair may be necessary. Repairs may be simple or complex. Not all orthopedic surgeons perform total knee replacement revision surgery. The surgeon's experience with revision surgery is important for a successful outcome.
Dr. Penenberg has extensive experience with knee revision surgery. His experience includes surgical solutions for simple and complex problems. A simple problem may be the replacement of the plastic liner. A more complex problem includes correction of mal alignment or instability. Revisions for loosening of prosthesis (which typically causes pain or treatment for infection) complex problem may be an infection, requiring the removal of the knee prosthesis, the placement of an antibiotic spacer, and 6 – 8 weeks of intravenous antibiotic therapy to eradicate the infection before re-implanting a prosthesis.
Revision knee surgery can also be required if range of motion is restricted. Stiff knees can often be improved by changing the components.
Dr. Penenberg works with a team of specialists in infectious disease management and internal medicine to plan a sophisticated course of treatment.
Frequently Asked Questions
What does MIS stand for?
MIS is the abbreviation for Minimally Invasive Surgery.

How does the MIS procedure differ from the usual/traditional procedure for hip or knee replacement?
When using the MIS procedure, Dr. Penenberg makes a significantly smaller incision, and cuts less soft tissue. The result is significantly less trauma to the soft tissue at the surgical site. This means significantly less bleeding, less pain, and less swelling. Less pain and swelling results in a shorter hospital stay, and a quicker recovery. You may be able to return to your regular activities within 3 to 5 weeks, as opposed to the 3 to 4 months it takes to recover from the traditional approach.

Is the MIS approach the same as arthroscopic surgery?
No. Arthroscopic surgery is performed on the soft tissue using a camera through a tiny incision. It is not applicable to joint replacement surgery.

What are the risks of joint replacement surgery?
There are three risks associated with joint replacement:
Hip dislocation:when the replacement ball pops out of the replacement socket. We have not seen this occur while using the MIS approach.
Infection:Dr. Penenberg takes active measures to reduce the risk of infection. Joint replacement surgeries are performed in special operating rooms with laminar flow – an air exchange system that cleans the air.He also administers intravenous antibiotics before and after the procedure to protect against infection.
Deep vein thrombosis (DVT)/postoperative blood clots:Dr. Penenberg starts blood thinning medication the day after surgery. These medications help prevent the formation of blood clots. The MIS procedures allow the patient to be more active, sooner after surgery. The increased mobility is also a significant factor in decreasing the incidence of blood clots.
How do I know if I'm a candidate for the MIS procedure?
Dr. Penenberg can determine if you are a candidate for the MIS hip or knee procedure on your initial evaluation. X-rays will determine if there is bone damage necessitating joint replacement, and the X-rays and the examination can determine if you are a candidate for the MIS approach.

Will my insurance cover MIS joint replacement surgery?
You can contact our billing department directly to answer any financial questions. MedNet Billing, Inc. 310.322.4278.

How long will I be in the hospital?
For primary joint replacement patients (hip or knee), the hospital stay is 1 to 3 days; however, some hip replacement can be done at an outpatient facility and discharged the same day. Patients having revision surgery may have a shorter or longer stay depending on the necessary procedure.

Do I need to donate my own blood before surgery?
No. The MIS procedure results in less trauma to the tissues, and less blood loss.
How long does the surgery take?
Dr. Penenberg performs the MIS joint replacement surgery in a little over an hour. Actual time in the operating room is about 2 hours given the setup time and the time the anesthesiologist is working with you.
What should I bring to the hospital?
Personal toiletries. CD player/ book/magazine – to help pass the waiting time getting ready to go into the operating room. Loose fitting, comfortable clothing. Insurance cards/ photo I.D. A list of all the medications you are taking – prescription and over the counter. The only medication you should bring is prescription eye drops or inhalers. Shoes or slippers that enclose the entire foot – no mules, clogs, or flip flops. Walker/crutches/cane – do not bring on the day of surgery. Ask a family member or friend to bring the next day.

Will I be able to climb stairs after surgery?
Yes! The Physical Therapist at the hospital will instruct you, and you will practice stairs, before you leave the hospital.

Will I stay in the hospital for rehabilitation?
Cedars-Sinai Medical Center does have a rehabilitation center. However most patients recover quickly, and do not need this service. Patients usually go home with home Physical Therapy (set up by the hospital). If you need outpatient rehabilitation, we will provide you with a list of rehabilitation centers. If you have private insurance, it is IMPERATIVE that you contact your insurance company to learn which rehabilitation facilities are covered by your policy.

How long will the prosthesis last?
The hip prosthesis is expected to last 25 years or more. The knee prosthesis is expected to last 15 – 20 years. Components can be replaced as necessary.

Will the prosthesis set off the metal detector at the airport?
The prosthesis can/may set off the metal detector. To-date, there have been no problems with delays or missing flights. You are simply "wanded," then allowed to proceed.

Am I able to resume sexual activity after surgery?
You may return to your regular activities as soon as you feel able, but with some caution. The joint will be tender, and it is best to keep pressure off of it while the soft tissue heals. Ask the surgeon or the nurse about safe positions that will accommodate your new joint.

How long will I have to be in Physical Therapy?
The time spent in Physical Therapy depends on the individual and the demands of his/her activities and occupation.

Can all orthopedic surgeons perform MIS joint replacements?
No. Surgeons must receive specialized training.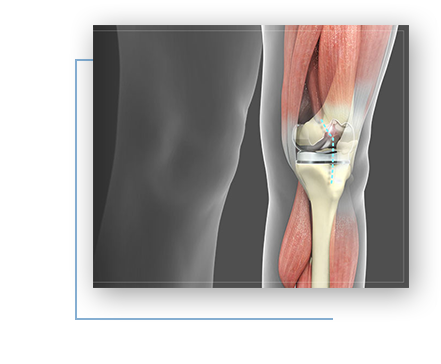 How Traditional Partial Replacement Methods Work
Using traditional surgical methods, cutting blocks or guides are placed on the thigh bone (femur) and shin bone (tibia) to help direct a surgical saw in removing the diseased bone and cartilage. This method has been considered technically challenging, as accurately placing these blocks can be difficult. In recent years, advanced surgical techniques using robotic assistance have been developed to provide a higher level of accuracy and precision.