Staff
Michelle Riley PA-C
Michelle received her Bachelor's of Science in Biology from the University of California at Santa Barbara in 2000. Upon graduation she completed Emergency Medical Technician (EMT) coursework and spent considerable hours volunteering her time and furthering medical expertise. After undergrad, Michelle moved to New York and attended Bronx-Lebanon Physician Assistant (PA) Program from 2000-2002. After PA school she did a 1 year Orthopedic PA Fellowship specializing in Trauma at Lincoln Medical Center (a Level 1 Trauma Center) in the Bronx, NY. After her fellowship, Michelle worked at Lincoln Medical Center, North General Hospital and Nassau County Medical Center (a Level 1 Trauma Center) specializing in Joint Replacements, Plastic Surgery and Spine during the day, and Trauma at night.
In 2006, Michelle directed her focus exclusively on Hip and Knee Replacement surgeries. She relocated to Southern California and teamed with renowned physician Dr. Brad Penenberg. Michelle's educational background and breadth of experience have contributed significantly in making her a highly effective PA.
Over the years Michelle and Dr. Penenberg have performed research studies that have been recognized by the American Academy of Orthopaedic Surgeons annual meetings. In 2011, Michelle was selected to present their research in Metal on Metal Total Hip Arthroplasties. In concert with Dr. Penenberg, she continues to participate in Joint Reconstruction research.
Michelle's interests outside of Orthopaedics include playing competitive softball, watching professional sports and spending time with her son.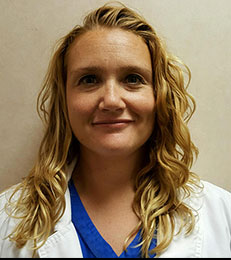 Michelle Riley PA-C